Financial Services Careers for Veterans
If you were going to describe the characteristics of U.S. military professionals, you'd probably use words like: committed, honorable, leader, integrity, and exemplary. We use those same words to describe the qualities we look for in a financial services representative.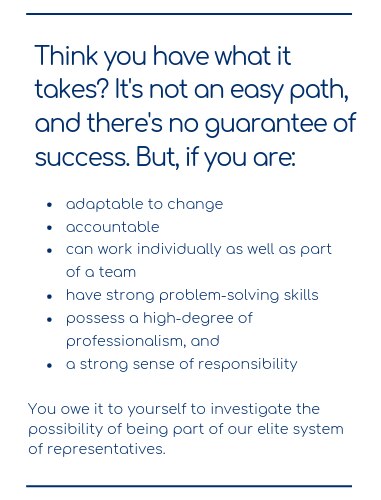 A career as a MassMutual New Jersey-NYC Financial Services Representative offers new challenges every day. The ability to have a meaningful impact on the direction and financial well-being of individuals, families, and businesses is the payback for those selected to represent one of the nation's oldest — and most respected — financial services companies.
You will have the opportunity to help people secure their lives by providing recommendations on strategies and products that can set them on the path to greater financial security and personal well-being.
Building a business takes a significant time commitment, but it doesn't mean you're tied to a corporate clock. There are opportunities to flex your time beyond the typical nine-to-five world to meet family and personal obligations. Successful Financial Services Representatives tell us that putting in the extra hours during the early years of their careers helped them to achieve a very satisfying work-life balance later on.